Traditional Metal Braces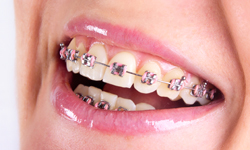 Traditional metal braces are the most common type of braces and are more comfortable today than ever before. Made of high-grade stainless steel, metal braces straighten your teeth using metal brackets and archwires. With metal braces, you have the option of adding colored elastics (elastic ties) for a more unique and colorful smile.
Clear (Ceramic) Braces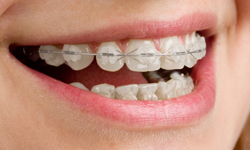 Ceramic braces are made of clear materials and are therefore less visible on your teeth than metal braces. For this reason, ceramic braces are used mainly on older teenagers and adult patients who have cosmetic concerns. While they are visually less prominent, they do require more attention to oral hygiene as ceramic braces are more brittle than their metal counterparts. For these reasons, ceramic braces tend to be used more on upper front teeth than on lower teeth.
Invisalign Clear Aligners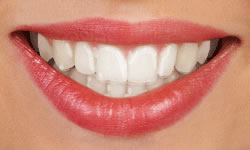 There's never been a better time to straighten your teeth with the most advanced clear aligner in the world. Our office is proud to be a certified provider of Invisalign clear aligners, which give you a clear, convenient, and comfortable option to achieve the smile you've always wanted.
Why Invisalign treatment?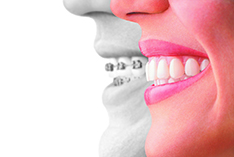 Faster treatment: With weekly or bi-weekly aligner changes, you're on your way to the smile you want even faster.
Proven results: SmartTrack® material and SmartForce® features are clinically proven to improve control of tooth movement with Invisalign clear aligners.
Better fit: Aligners made from SmartTrack material are comfortable, fit well and are easy to put on and take off.
Effective: Invisalign clear aligners can treat a wide range of teeth-straightening conditions, including crossbites, crowding, open bites, gapped teeth, overbites, and underbites.
Virtually invisible: Most people won't even know you're going through treatment, because Invisalign aligners are virtually invisible!
Comfortable: Invisalign clear aligners are not only smooth and comfortable to wear, but they're also removable. That means you can continue doing all the things you normally would, from brushing and flossing to eating whatever you like.
Convenient: Invisalign treatment is ideal for your busy schedule since you only need to visit our office every six weeks.
To learn more, click HERE