American Board of Orthodontics Doctor Certification – Only 1 in 3 orthodontists is board certified – Choose Wisely - Dr. McDonough was certified in 2001
I am very proud to be board certified. This is a voluntary process that was very challenging and rewarding. The American Board of Orthodontics (ABO) was established in 1929. It is the oldest and most esteemed professional organization in dentistry. The goal of the ABO is to elevate the principles of the practice of orthodontics, to educate the public about its goals and standards, and to protect the public from negligent and inexperienced orthodontists.
There are four main objectives that the Board upholds:
To assess the knowledge and clinical expertise of persons who have graduated from an accredited orthodontic program by conducting exams and awarding certificates.
To re-assess the clinical knowledge and skill of Diplomates by administering re-certification exams.
To encourage the development of high-quality graduate, post-graduate and continuing education courses in orthodontics.
To support and promote certification expertise worldwide.
How does an orthodontist become board certified?
An orthodontist must first pass a meticulous set of clinical and written exams to become board certified. The Board also conducts a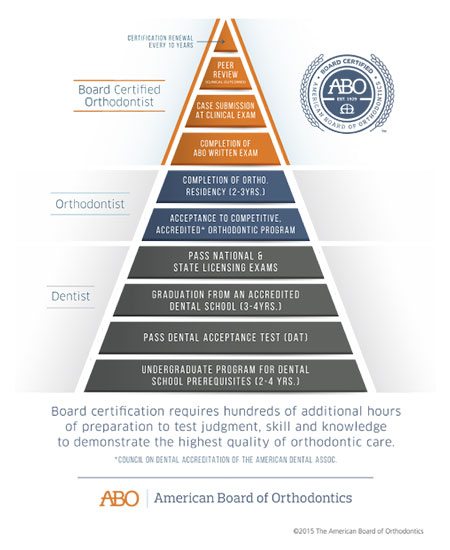 comprehensive review of the orthodontist's credentials. The initial process of board certification can last from five to 10 years. When Dr. McDonough was board certified in 2001, less than 20% of all orthodontists achieved this recognition. Today it is almost 33%.
What does it mean to be board certified?
Becoming board certified or a Diplomate of the ABO indicates an orthodontist's continued pursuit of excellence and proficiency in orthodontics. A Diplomate agrees to be voluntarily examined by his or her peers based on their knowledge and skill of the orthodontic profession.
Dr. McDonough has been teaching a class at Albert Einstein Medical Center since 1995 on how to pass the written portion of the board certification process. All of his students have passed the written test!!